Attention Parents/Students If you as a student have planned on taking an online class this fall semester (not including dual credit) they will be starting Monday the 22nd. Please let Mrs. Hanson know the title of the course you are planning on taking by emailing her at
sadie.hanson@k12.sd.us
and she will get you registered. Here is the link to the course selection list:
https://sdvs.k12.sd.us/Students/Courses.aspx
Thank you.

Per the August Platte-Geddes School District Board Meeting, only senior students will have the open-campus option during their dual-credit and online class periods.

This school year, families who may qualify for free or reduced-price meals will need to submit a free and reduced-price meal application. Flexibilities that allowed schools to serve universal free meals have now expired. Details:
https://www.fns.usda.gov/cn/2022-23-parent-faqs
While flexibilities that allowed schools to serve universal free meals have now expired, families who qualify can still access free or reduced-price meals by submitting a free and reduced-price meal application. Details:
https://www.fns.usda.gov/cn/2022-23-parent-faqs
Wondering how your child might be able to access free or reduced-price meals this school year? Contact your local school for more information or check out this information from the U.S. Department of Agriculture:
https://www.fns.usda.gov/cn/2022-23-parent-faqs

Platte-Geddes Elementary in cooperation with CORE Educational Cooperative will sponsor a Birth to Age 5 Developmental Screening on September 13, 2022. Please call Carol Oberbroekling at Platte-Geddes Elementary to sign your child up for this screening. It will be held at Trinity Lutheran Church in Platte.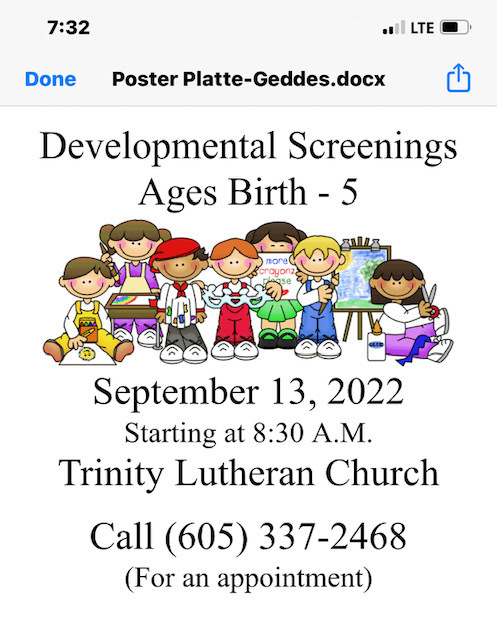 Proposed Social Studies, CTE standards released. Proposed standards for Social Studies and several Career and Technical Education (CTE) areas have been released. Members of the public are invited to read the standards and provide public comment.
https://doe.sd.gov/contentstandards/ss-review.aspx

Attention High School Students: If you have registered for one of Ms. Kraft's classes, you will need a three-ring binder.

Parents of students Grades 9-12; Mr. Neugebauer is on site Monday-Friday from 9-4. Those students should pick up their laptops during that time. Picking laptops up in advance creates less chaos on the first day of school. Thanks for your help!
2022-2023 6th grade students and parents: Platte-Geddes junior high school will be having an orientation meeting during the Open House August 23rd from 6-7 pm in the high school gym. Please plan to attend for class schedules, student expectations, and other pertinent information. 2022-2023 incoming 6-12 students: Platte-Geddes High School will be having fall registration days for those that would like to finalize class schedules. Feel free to stop in the high school office on August 15-17 any time from 8-4.


Junior High (6th-8th grade) Volleyball Parent/ Player meeting Wednesday, August 10th at the High School Gym at 5:30 pm. Right after the meeting the girls will do their Concussion (Impact) Testing in the HS library. First practice will be August 22nd at 5:45pm. Parents and Players if you are not on the Heja app yet, please join using team code. Team Code: DZ101590

Cross Country Information: Cross country will be holding an informational meeting Monday, August 8th at 6:00pm in the elementary main gym for grades 6th-12th. We will be going over training rules, handing out paperwork, and going over practice times. Parents and runners are encouraged to participate. Practice will begin August 11th at 6:45am-8:00am meeting at the north elementary school doors. If you have any questions please contact coach Matt - phone # 605-680-1207 or email
maxonmatt@gmail.com

High School Football Player/Parent Meeting Information Wednesday, August 3- Elementary Gym Player meeting @ 7:30 pm Parent meeting @ 8:00 pm First official practice begins on Thursday, August 4 at 6:30 am

Middle School Football Meeting Information: Wednesday, August 10 at 8 a.m.- High School Gym There will be a short parent meeting and forms will be handed out. Student-athletes will need to stay after the meeting to complete Impact Testing and receive equipment. Practice will officially begin on Thursday, August 11 at 8:30 am. 6th grade students and new participants will need an athletic physical. Contact Coach Cutler with questions at 605-207-0066 or via email at
frank.cutler@k12.sd.us

The Platte-Geddes School District is looking for an assistant cook and part-time, after school custodian for the upcoming school year. If you are interested in either of these positions, please contact Joel Bailey at 605-337-3391 or via email at
joel.bailey@k12.sd.us



Advertisement for Sealed Bids (old wrestling mats) Notice is hereby given that sealed bids will be received by the Platte-Geddes School District #11-5 of Charles Mix County, Platte, South Dakota at the Business Administration Office, 400 Illinois Avenue, Platte, South Dakota 57369 for old wrestling mats. (3) 14ft sections, approximately 42ft by 42ft when put together Sealed bids are due by 1 pm on Friday, July 22, 2022, with the bid opening to begin at 1:05 Bids must be for the entire mat and the highest bidder is responsible for mat pickup. The mats must be picked up no later than Monday, July 25 at 4 pm. The Platte-Geddes Board of Education reserves the right to reject any or all bids and to waive informalities. BY ORDER OF THE BOARD OF EDUCATION Platte-Geddes School District #11-5 Charles Mix County, South Dakota 57369 Kathy Holter, Business Manager


Annoucements: The wood floor in the elementary gym was recently waxed. Any students using the gym need to have a clean pair of shoes. The district is getting rid of the old wrestling mats. If you are interested in the mats, please email Joel Bailey at
joel.bailey@k12.sd.us
Thank You!