There will be NO SCHOOL TODAY, Monday, March 15 at Platte Geddes Schools.
Platte-Geddes Schools will open at 10 am on Monday, March 15. There will be no Half-Day Kindergarten and the Geddes bus will leave promptly at 9:15
Platte Geddes Schools will have a 10 AM start today, Thursday, March 11 due to poor road conditions in some areas of the school district. Please drive safely.
Platte-Geddes Schools will be closing at 2:45 today (Tuesday, March 10)
Reece Burket, Oakley DuFrain, and Briggs Veurink spoke on behalf of the second-grade class at the Geddes City Council meeting on Monday, March 8th. Their class would like to add a park bench, life size jenga game, and a fire pit to the Geddes Park. All of the projects were researched and voted on in their PBL (Problem-Based Learning) classroom. Problem-Based Learning is a classroom, designed around Social Studies and Science standards, that looks for problems in the community and incorporates a project around that problem. This class knows that Geddes is short on city workers and a small community of helpers, so they approach the city council yearly with their project and help. They are funded, through Modern Woodman, to pay for some of the materials they need to spruce up the park and materials for their new project. The second-graders will go to Geddes early May, along with some of their parents, to bring the park alive. Mrs. DuFrain and Mrs. Frandsen believe it is a great experience to show how to help others, learn about local government, and many other standards along the way.
Platte Geddes Elementary Teachers and Parents, Our High School FFA is partnering with CHS ~ Cenex Harves States for a community non-perishable food drive. Each classroom has a box for the collection of food items. Students are encouraged to bring any non-perishable food items for donation. You can send these food items to school now through Tuesday, March 16, 2021. Thank you for your support of this community food drive!
Update: You will not be able to access the basketball live stream link through Black Panthers Live. Tonight's SoDak 16 game against Aberdeen Christian will be live-streamed by Hub City Radio from Aberdeen. You can access the live-stream here:
https://portal.stretchinternet.com/hubcityaberdeenchristian/
Bailey, Joel is inviting you to a scheduled Zoom meeting. Topic: Bailey, Joel's Zoom Meeting Time: Mar 8, 2021 07:00 PM Central Time (US and Canada) Join Zoom Meeting
https://sdk12.zoom.us/j/93631055908?pwd=cVQrSXVXR2g0bWpkTEMyUDEyblpMQT09
Meeting ID: 936 3105 5908 Passcode: 461183 One tap mobile +16699006833,,93631055908#,,,,*461183# US (San Jose) +12532158782,,93631055908#,,,,*461183# US (Tacoma) Dial by your location +1 669 900 6833 US (San Jose) +1 253 215 8782 US (Tacoma) +1 346 248 7799 US (Houston) +1 929 205 6099 US (New York) +1 301 715 8592 US (Washington DC) +1 312 626 6799 US (Chicago) Meeting ID: 936 3105 5908 Passcode: 461183 Find your local number:
https://sdk12.zoom.us/u/agf5QDma3
The 5th graders measured their shadows during science class last week. We LOVE being outside, enjoying the beautiful weather!!
The Legion Auxiliary donated dictionaries to all of our 3rd grade students. We presented the dictionaries to each child today. Thank you to the Legion Auxiliary for the wonderful donation of dictionaries. The kids were excited to receive the gift.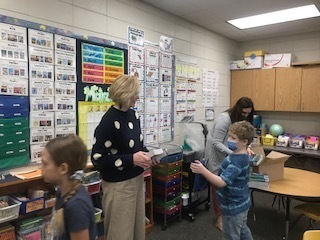 A few more photos from our Reading Celebration.....
Our February Reading Challenge this year focused on being a part of a "college/university team". The kids chose to be on Team SDSU, Team USD, Team DWU, Team NSU, or Team MTI. Wow did we READ!! Here are a few photos from our Reading Celebration Party held on Friday, March 5. We had ice cream bars, sunshine, and recess! We had a great deal to celebrate, 98,500 overall reading minutes!! Thank you to everyone who listened to their children read, encouraged their children to read, or read to their children!
A few more photos from our "What I want to be when I grow up day"... at Platte Geddes Elementary.
The future is in good hands!! We have BIG dreams! In celebration of "Read Across America" we dressed up as "What we want to be when we grow up".... I'm sharing a few......Teachers, Doctors and Nurses, Veterinarians, Farmers and Construction Workers, Dancers, and even a Navy Seal. What a great week at PG Elementary.....
The Platte-Geddes Junior High and High School staff have started to create student spotlights for 6th through 12th graders. These spotlights are designed to shed light on the great things that the students are doing. Spotlights can be for anything that staff feels should be highlighted such as working hard in the classrooms, being a great person to others, helping out when needed, making good decisions, and numerous other things. Six Students are chosen each month and are featured on a bulletin board with their own poster. Student Spotlights for February are Sydney Neuman, Kallie Walstad, Kiana Major, Claire Maydew, Jerni Severson, Tristen Petrik
Congratulations to Kasen Konstanz of the KWLPG Wrestling Team for his State Championship at 106 lbs! Congratulations to the entire KWLPG Wrestling Team for an outstanding State Wrestling Tournament!
Congratulations to Kiana Major of the KWLPG Wrestling Team for winning the first ever Girls State Championship in Wrestling at 160 at the State Wrestling Tournament in Rapid City this weekend. Congratulations to Spencer Hanson for winning a State Wrestling Championship at 182.
We helped send off the KWLPG Wrestlers on their way to the State Wrestling Tournament.